Easily Segregate and Protect Your Clothing
Looking for an easier way to transport and store items of clothing, without having to take them off the hangers? Why crease, fold or screw up your clothes, when you can simply transport or store them safely and neatly, whilst saving yourself time and effort in the packing process!
This is something that a surprisingly large number of people don't know about, but we have the ideal solution… Wardrobe Boxes. Read on to find out more.
With a new season on the horizon, now is a great time to clear out your wardrobe, pack up your winter clothing and transport it safely into storage. Let's face it, we all need a little more wardrobe space and winter clothing definitely takes up the majority of it. Why keep your wardrobe full to bursting all year round? Pack up the things you won't be needing for a while, especially large bulky items, and bring them into storage.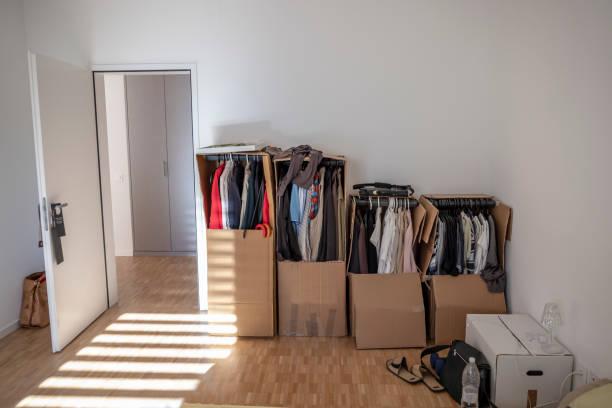 Pack Like a Pro!
Some items are much easier to pack than others, do you have a system you use?
A lot of people start with heavy items first, others start with delicate items, and some start with items that are easy to stack and pack! We tend to start with books, DVDs, CDs and then ornaments wrapped and boxed. We pack up each room and all equipment in boxes because almost everything can be boxed. But there's always something that stumps us. What do we do with the clothes from the wardrobe?
For most people, packing up their wardrobe consists of throwing their clothes into whatever is close to hand, or some even cram clothes into the spaces around other items. But what about the NICE clothes? The last thing you want is for your best suits and dresses to be crammed into a box or black bin liners. Plus, it takes up a lot of time to remove clothing from hangers, folding and packing them, and then unpacking and unfolding them, and ironing out all the inevitable creases. This time could be much better spent.
We have a simple, convenient solution to your problem. Wardrobe boxes.
What are Wardrobe Boxes?
These clever boxes were developed by the removals and storage industry and are specially designed to safely transport hanging clothes during the course of your move. Not only do these boxes keep your clothing free from dirt and dust, but they're a cheap, value-for-money answer to your problem.
Made from strong, double-wall cardboard with a robust plastic hanging rail (and carry handles for easy mobility), these boxes are stapled at the seams for extra strength. That means that your clothes can be taken straight from your wardrobe, still on the hangers, and hung neatly into the wardrobe box. This prevents all kinds of creasing, crushing, etc. and saves you time.
Plus, any space left at the bottom of the box can be filled with shoes, trainers and boots, etc. These boxes can then be safely stored in our storage space until next required, so you can rest easy, knowing your favourite clothes are safe and waiting until you need them again.
Putting your clothing in storage makes any seasonal change of wardrobe much easier, simply label your boxes with 'Winter coats', 'Holiday wear', etc, to make switching from winter to summer clothes easier than ever before.
If you'd like any further advice or information on how to store your clothing safely and cost-effectively with us at Louth Self Storage, simply get in touch for more information and we'll be happy to advise you.
We're always searching for new ways to improve, and this doesn't just extend to our security. We believe you do and should expect more than the minimum from us, which is why we're constantly producing new materials that you might find handy, like our latest useful space guide.
Helping you to work out which size of unit would be best for you, it cuts down on the guesswork so we can provide you with exactly what you need from the word go.
Storing your goods to the very highest standard, the team at Louth Self Storage are genuinely committed to providing a customer experience par excellence, and to ensuring you can have complete peace of mind when you store your goods and possessions with us.
Why not contact us today on 01507 327008 for more information?