MAKE MONEY BY FREEING UP SPACE IN YOUR HOME!
Ever wanted to be your own boss, make some extra cash or rent-a-room? There are many ways to make some extra money, hassle-free, with no travelling expenses and without even having to leave your home.
Whether you're looking for a part-time or full-time solution, a second income to help make ends meet, boost your savings or simply to follow your passion, it's much easier to do than you might think!
Here are some ideas about how to transform a spare room in your house, and turn it into something profitable:
Create a lodger space – By clearing a spare room and putting your personal belongings into storage, you could rent out your spare room to a lodger.N.B. You may qualify for help via the government's Rent-A-Room scheme which allows a tax free income!
There are many websites that will help you rent your room out, here are just a couple.
Register free @ Easyroommate and Spareroom.
Set up a home office – If you have a particular interest or hobby, then why not turn your space into an office and make money from your skill. Declutter those items you hardly ever use and put them into affordable storage here at Louth Self Storage, to make room for a desk and computer station, or any other office supplies you need.
Create your own craft space – You can set up a craft room at home and easily sell your products to friends and family, craft fairs, school fetes or even an on-line store such as: Etsy, eBay, Amazon, Gumtree, Instagram , Facebook Market Place, Shopify & Shpock.
Get into upcycling – Maybe you're a dab hand at upcycling furniture but just don't have the room? Whether it's shabby chic painted chest of drawers or re-upholstering makeover's, more and more people are going for bespoke and recycled furniture these days.
Sell items you already have – Have you thought of clearing your garage and storing the many tools, bikes and other miscellaneous bric-a-brac you might have that are taking up value space? Plus store any large items with us until they sell!
Turn your passion into money by making space and simply storing with us.
Prices start from only £5.00 per week! By doing this, your business journey and the dream of being your own boss can become a reality!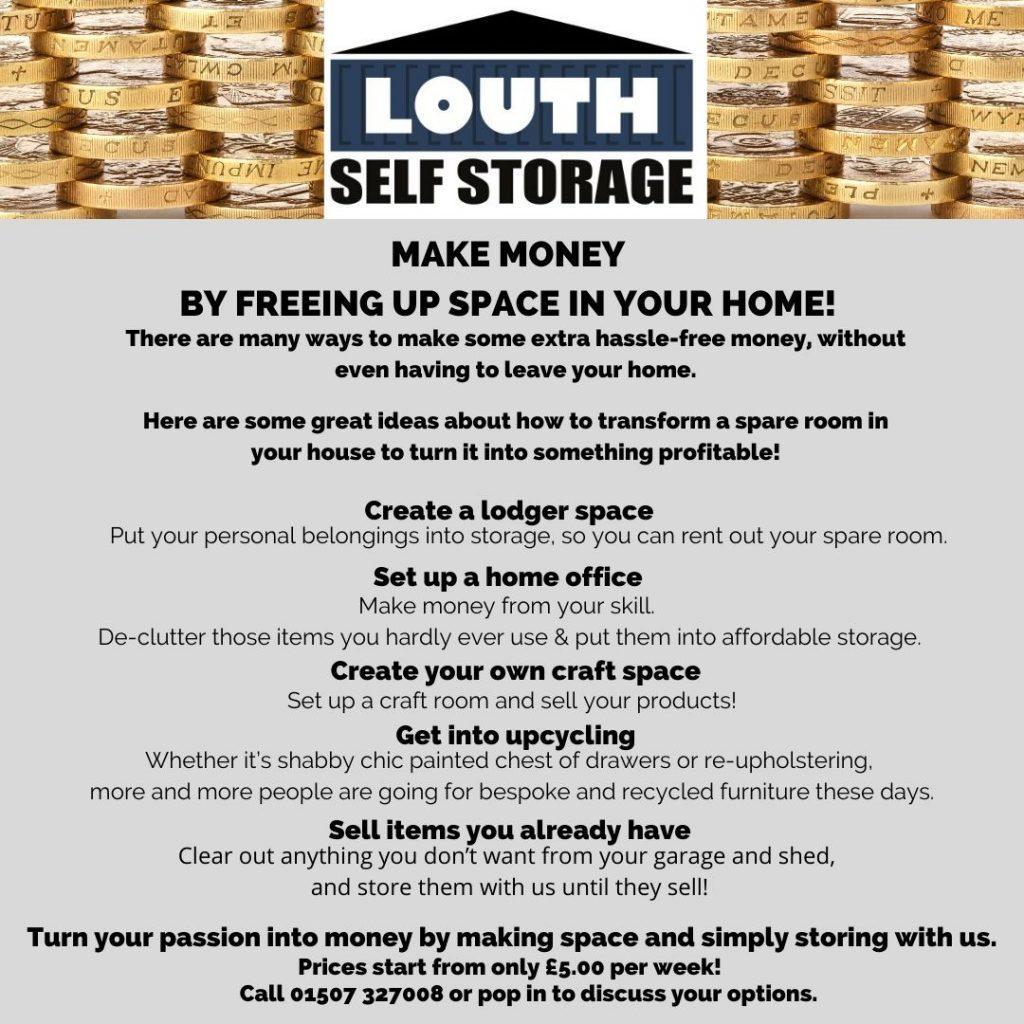 Call 01507 327008 or pop along to our site at Manby, Louth to discuss your options
We're always searching for new ways to improve, and this doesn't just extend to our security. We believe you do and should expect more than the minimum from us, which is why we're constantly producing new materials that you might find handy, like our latest useful space guide.
Helping you to work out which size of unit would be best for you, it cuts down on the guesswork so we can provide you with exactly what you need from the word go.
Storing your goods to the very highest standard, the team at Louth Self Storage are genuinely committed to providing a customer experience par excellence, and to ensuring you can have complete peace of mind when you store your goods and possessions with us.
Why not contact us today on 01507 327008 for more information?