6 Stylish Storage Ideas for Your Bathroom
A well-organised and clutter-free bathroom enhances functionality and tranquillity in your home. However, finding adequate storage solutions for your bathroom essentials can take time and effort, especially when dealing with limited space.
We've compiled six stylish storage ideas to transform your bathroom into a zen den, free from the outside world's problems.
Floating Shelves and Wall-Mounted Cabinets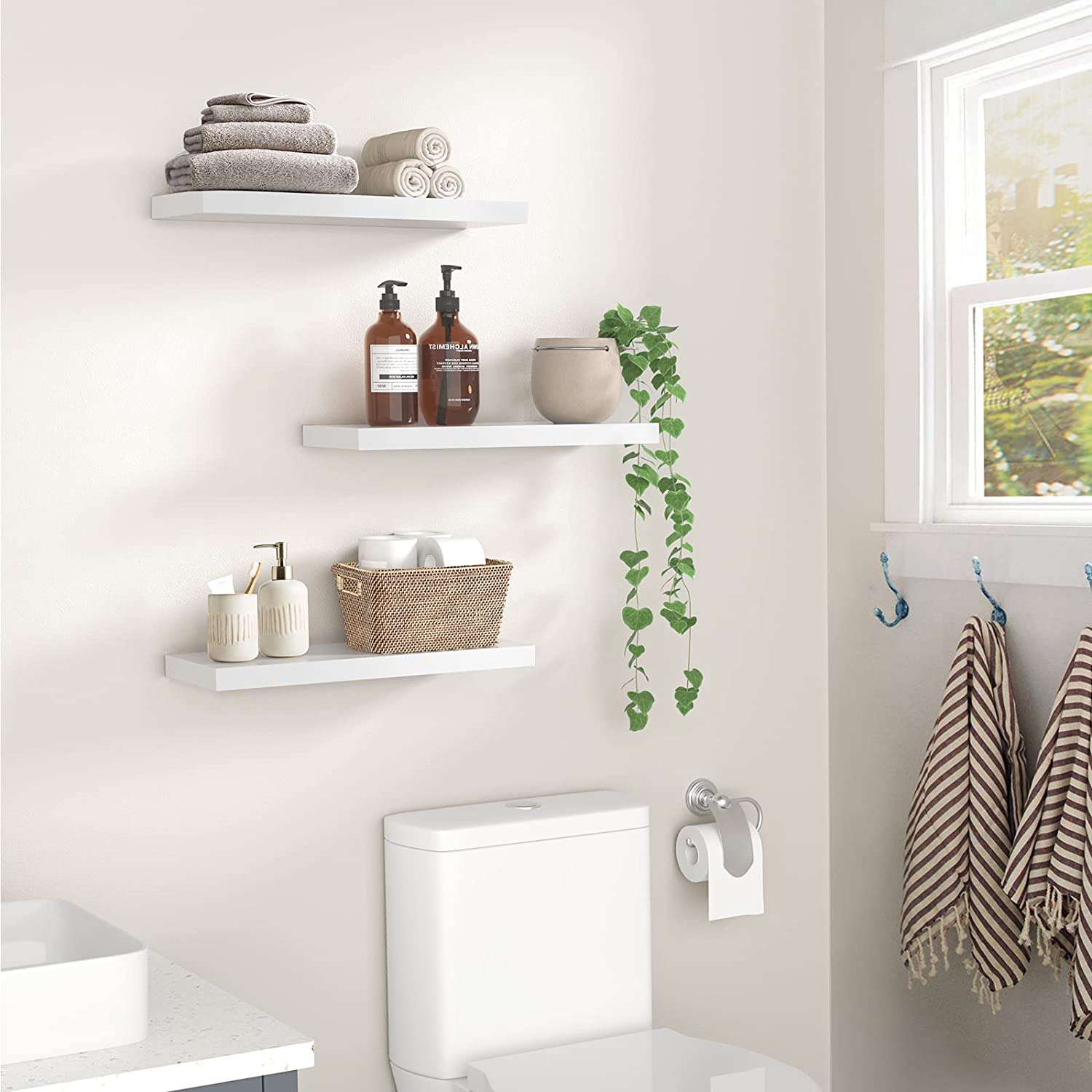 Vertical space is your greatest ally when maximising storage in a small bathroom. Floating shelves and wall-mounted cabinets are excellent options to utilise the often-neglected area above the toilet or beside the sink. They come in various styles, from sleeker profiles for a cleaner look to more expansive ones with multiple cabinets. Freestanding ones rest on the floor, either on a solid base or on legs.
These elegant storage solutions provide a stylish display for your bathroom essentials while keeping them within easy reach. Select shelves or cabinets that match your bathroom's aesthetic — whether rustic, minimalist, or contemporary — to create a cohesive look.
Under-Sink Organisers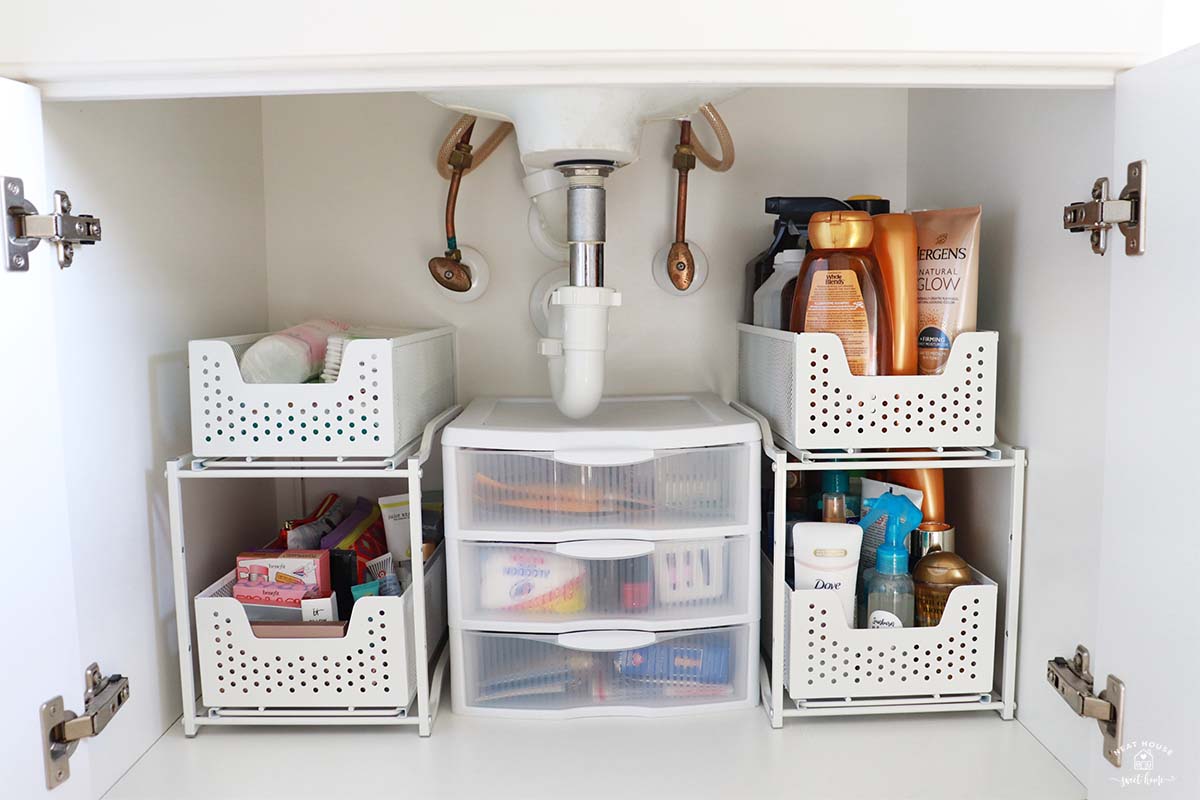 If your sink cabinets live in a chronic state of disarray, you're not alone. We know what it's like to try to corral the chaos that lives in a bathroom, and we've found that investing in a few under-sink organisers will transform your life, converting your mornings from a frantic, caffeine-fueled scavenger hunt into a more serene (dare we say mediative?) AM ritual.
The area under the sink is a valuable storage spot that truly deserves more recognition; make the most of this space by incorporating organisers such as sliding drawers, pull-out baskets, or tiered shelves. Consider adding drawer dividers to sort and categorise your items efficiently. This solution allows you to neatly store toiletries, cleaning supplies, and extra towels, making them easily accessible while keeping the space tidy.
Towel Racks and Hooks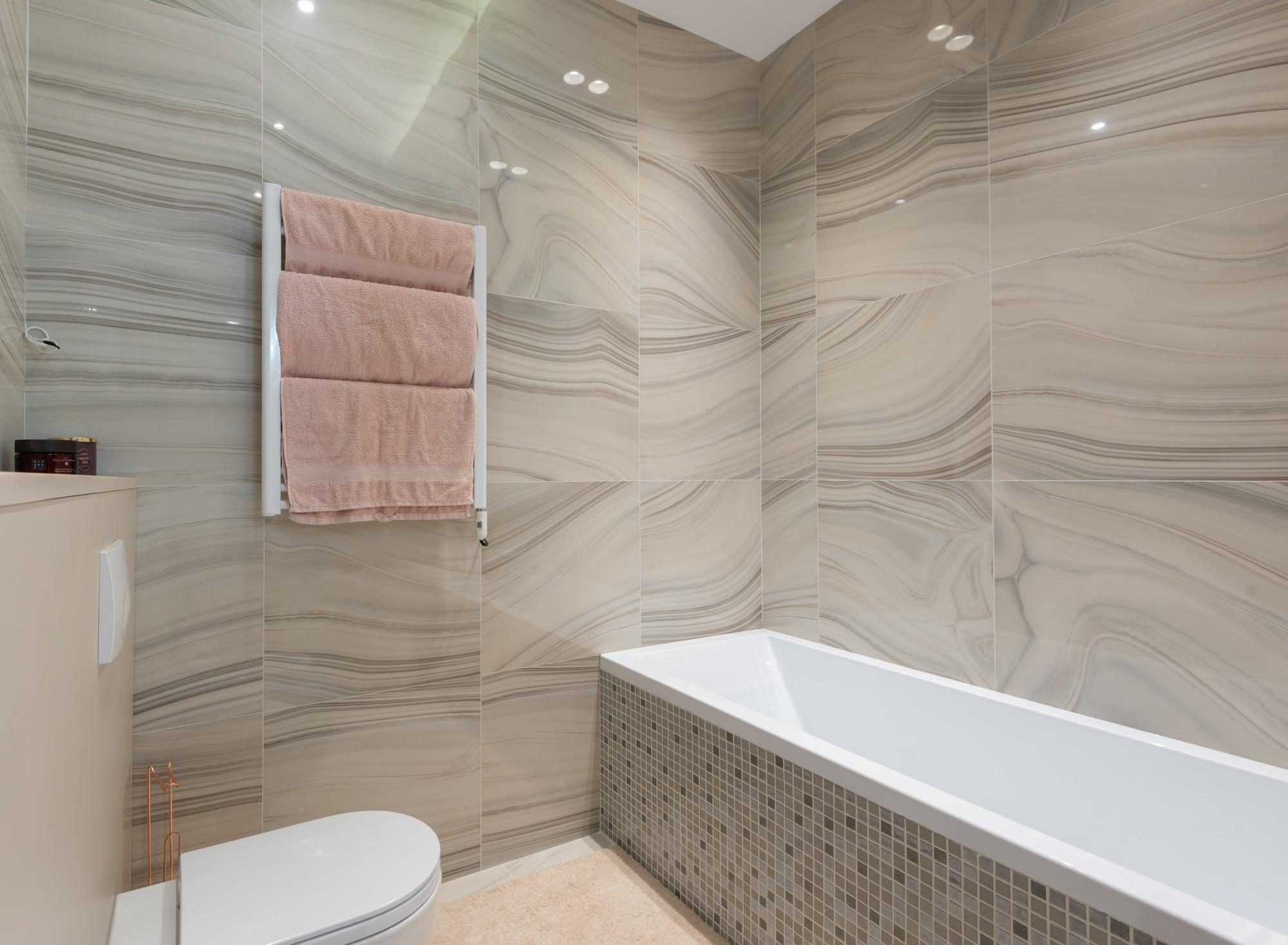 Towels are an essential part of any bathroom, and it can be a real challenge to find a stylish yet functional way to store them. Try installing towel racks or hooks on the back of the bathroom door, the wall beside the shower, or the inside of the cabinet doors. This idea keeps your towels organised within easy reach and adds an aesthetic element to the space. Experiment with different finishes, such as brushed nickel or matte black, to complete your bathroom's overall design.
Note: Towel hooks should be at least 180 cm above the floor. If you're going to have multiple hooks, you should space them a minimum of 25 cm apart. This method will help keep the bathroom walls' structural integrity intact and not overcrowd one section of your space with too many towels.
Over-the-Door Organisers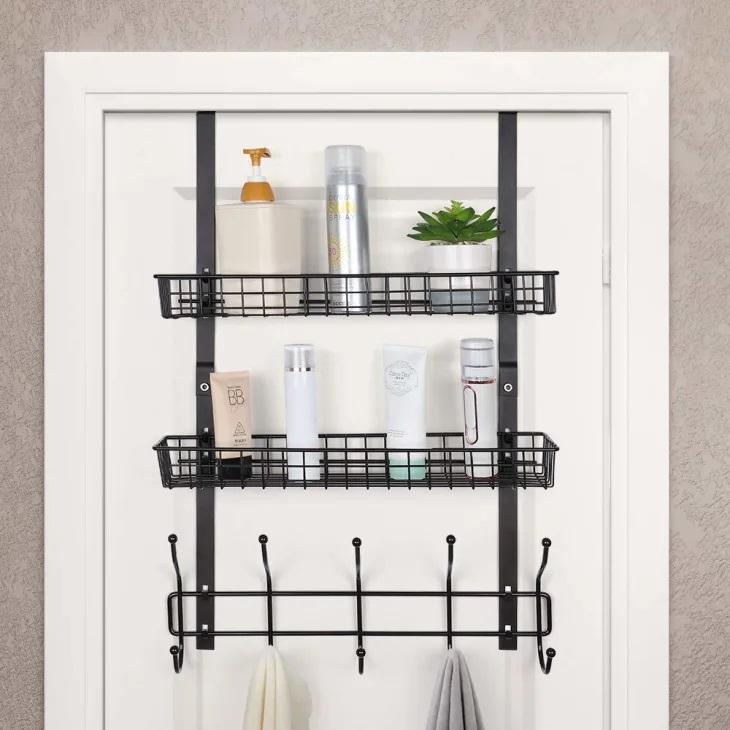 Over-the-door organisers come in various sizes and styles, ranging from pockets to baskets. You can hang them over the bathroom door or the shower chamber, providing a convenient little warehouse for toiletries, hair accessories, and your other essentials. Over-the-door organisers are particularly useful in shared bathrooms, where you might be battling it out for space with another individual. Why use only half of your door's real estate when you could utilise the entire thing?
Vanity With Built-In Storage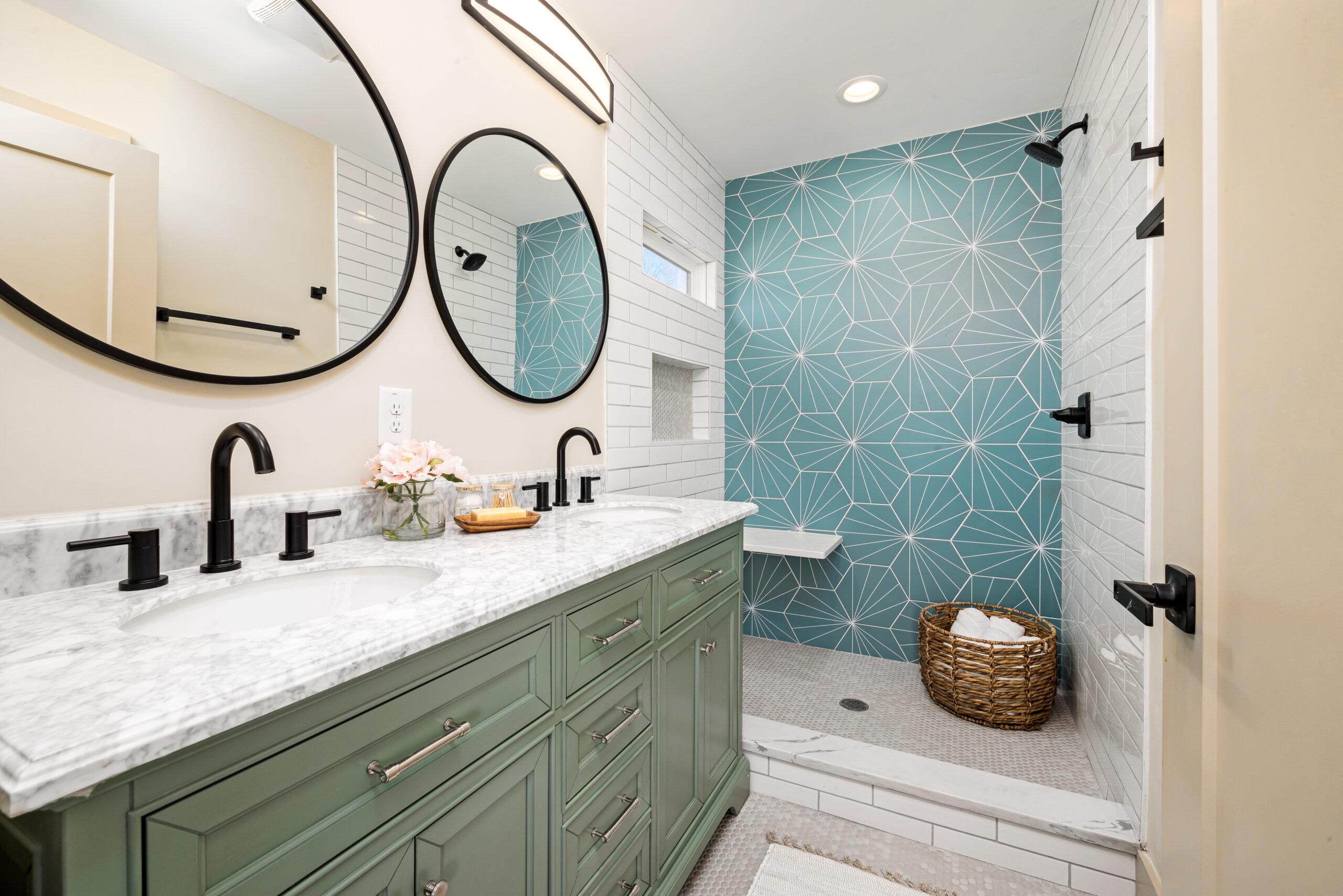 A vanity with built-in storage is the savvy choice for bathrooms of all sizes. It's best to opt for a vanity with drawers, shelves, or cabinets beneath the sink, providing ample space for all your bathroom necessities. Our advice is to choose a vanity that matches your bathroom's style too. Modern, traditional, and farmhouse styles are just a few ideas to work with for a complete look that gels with your preferred fashion.
Worried about the size? Build-to-fit bathroom vanities allow you to choose the best options for your bathroom's style and layout. Single-sink bathroom vanities are perfect for small spaces or guest bathrooms. Double sink bathroom vanities present extra counter and storage space and work well around bigger baths.
Decorative Baskets and Containers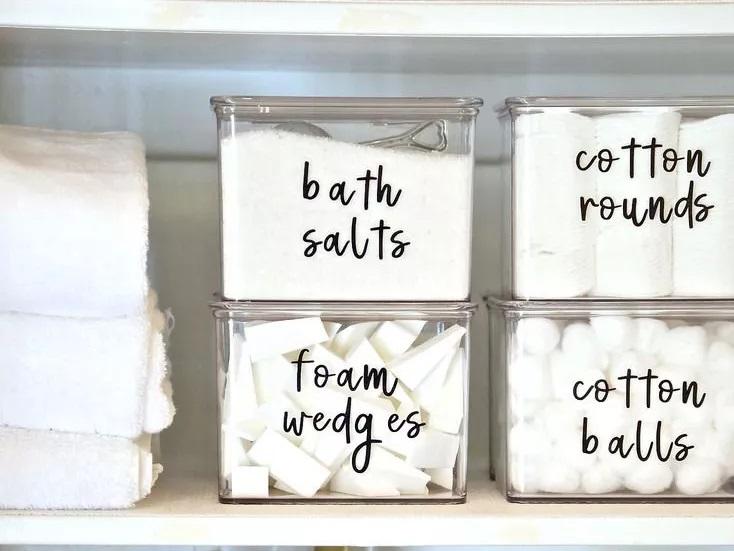 Incorporating decorative baskets and containers is a charming way to add a touch of style while keeping your bathroom organised. Choose woven baskets or sleek metallic containers that complement your bathroom's colour scheme to add more texture to the space. Use these baskets to store towels, toilet paper rolls, or even magazines (really get your guests talking about how classy you are). Select containers with lids to hide away smaller items you don't want exposed, like cotton balls, Q-tips, and bath salts.
For smaller, simple spaces, medium-sized baskets are an appealing way to roll and store towels. Place them in cupboards, or line them up in rows underneath the sink to sort washing items as you go. This layout is also a charming way to leave out a towel and washer for any guests using your bathroom.
Creating an organised and stylish bathroom doesn't have to be daunting. If you're moving homes (and bathrooms) or have too many items cluttering up your bathroom/home, get in touch with Louth Self Storage today — your mates in the moving and self storage business!